image credit: Dominic Taylor/Limerick Writers' Centre
Knute Skinner was born in St. Louis, Missouri, and grew up in nearby Webster Groves. He attended college at Culver-Stockton and at the University of Northern Colorado, where he received a BA in speech and drama. He then did graduate work at Middlebury College and at the University of Iowa, where he was also an instructor in the English Department.
After receiving a PhD in English, Skinner turned his back on job offers, left Iowa, and headed off to spend the rest of his life on the Canary Islands. Instead, after two years travelling around Europe, he purchased a cottage in rural Ireland. There, when not writing poems, he worked in a turf bog and grew vegetables for the local market. He also began teaching part of each year at Western Washington University in the US. In 2000 he retired from teaching and now, along with his spouse, Edna Faye Kiel, is resident year round in Killaspuglonane, County Clare. He occasionally conducts poetry writing workshops, and he is currently at work on a new collection of poems.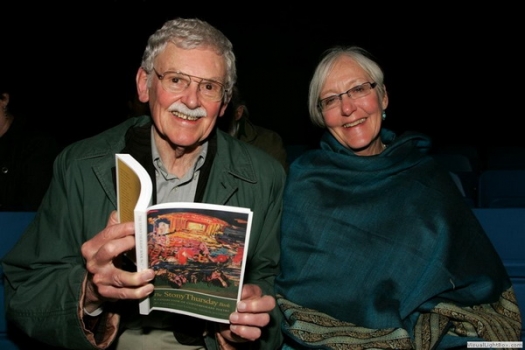 Knute and Edna Faye       image credit: Dominic Taylor/Limerick Writers' Centre
His first book of poetry, Stranger with a Watch, appeared in 1965 and contained early poems written in Iowa. His second collection, A Close Sky over Killaspuglonane (1968), showed the influence of the people and the landscape of rural Clare. Since then, he has published nine more books and eight chapbooks. His poems, which have appeared widely in serial publications in Ireland, England, Australia and North America, show a variety of styles, including both free and formal verse. Two collections, The Bears and What Trudy Knows, demonstrate a marked departure from his usual lyric mode, as the poems are all fictional narratives highlighting brief moments in the lives of the imagined narrators. In 2007 Salmon Poetry brought out a collected edition, Fifty Years: Poems 1957-2007 and in 2010 Salmon published a memoir, Help Me to a Getaway. A limited edition of his poems, translated into Italian by Roberto Nassi, was published by Damocle Edizioni, Chioggia, Italy, in 2011. His most recent collections are Concerned Attentions, Salmon, 2013, and Against All Odds, Lapwing Publications, 2016.
Skinner founded the Signpost Press, a nonprofit corporation devoted to publishing contemporary literature, and he was a founder and editor of the Bellingham Review. He was awarded a fellowship by the National Endowment for the Arts and has received residencies from the Huntington Hartford Foundation, The Millay Colony for the Arts, The Tyrone Guthrie Centre, Fundación Valparaíso, and the Heinrich Böll Association. He has taught numerous poetry writing workshops in the United States and in Ireland.
Guest Poet at the Whitehouse
video credit: White House, Limerick