As his readers may expect, the new work exhibits his artful and often moving, unnerving, or humourous turns of phrase. Moreover, it displays the poet's continuing fascination with the tenuous relationship between the quotidian and the otherworldly.
In 'Self-Assessment at Eighty' from Part I of Concerned Attentions Skinner compares himself to Shakespeare and on a number of counts, not least artistic achievement, he genuflects to the peerless poet and playwright. In typically wry Skinner fashion he ends the poem with the observation that in one respect he is comparatively advantaged –"I am still above ground." We should all be thankful that this singularly unusual poet is still amongst us, and… producing poems that are enigmatic and deeply compelling.
–Frank Golden

Publication Date: Friday, September 06, 2013
paper €12.00 $16.00
Cover Artwork: "The Artist's Studio" — photograph by Diarmuid Twohig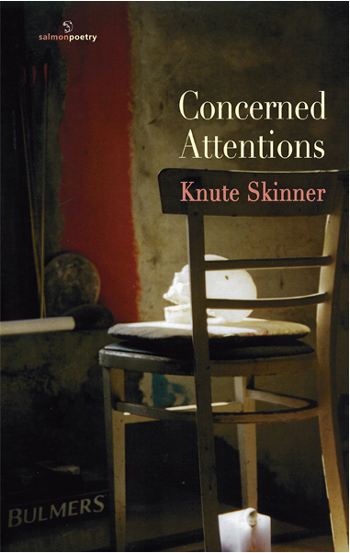 Read a poem from this book
Though the day has come for us,
the wind is all that seems real.
And real enough it has been,
blackening leaves and stalks
and scattering petals.
Though we will not revert
to our gardens again,
to us they seem infinitely sad
and replete with nondescript meanings.
Arrangements have been made for us,
and as we lack cause for further delay,
we step out into the wind.
We care so little for the future of our past
that we leave our doors open
to swing on their hinges.
Bent forward, we lean on the wind,
assured of each other's presence–
even though our eyes, downcast,
extend no farther than our feet.
Knute reads 'The Dead About Us' from "Concerned Attentions"
video credit: Fergus Tighe