"Nothing. / Just standing here. / That's all I'm doing." So begins one poem in Knute Skinner's latest collection, The Life That I Have. Like so many of these taut lyric-narratives, "Doing Nothing at All" affects a wry, rueful tone only to draw the reader toward the brink of some considerable existential, even metaphysical gravitas—as when a strong current runs below a seemingly placid surface so the reader hardly knows, at first, that they are quietly being swept away. Whether a couple at breakfast recollecting a first meeting, or a man confronting a life-quandary proposed by a half-eaten apple, or the poet himself considering the "thin hold" of a fallen limb on his garden's cypress tree, the lives captured so intensively in Skinner's poems never fail to glimpse and record the "fine print" of the soul. The flames confined behind the grate in his marvelous poem "The Fire" "would consume the world," yet the poet recognizes "it is I who must bring the world to the fire." Now nearing ninety, Knute Skinner for more than six decades has been doing just that to the fire of his imagination—vitally, consistently, indelibly.
–Daniel Tobin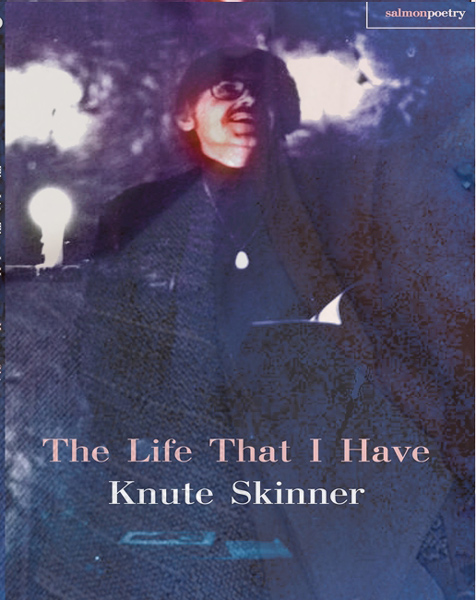 Read a poem from this book
The fire is dying.
It is mostly charred embers and ash now,
but the end of a once hefty log                                         
keeps a red glow.
I look at the fire, and I ponder resurrection.
There's paper at hand in the bin,
and outside the door I've stationed a box of sticks.
A stack of logs stands ready by the garden wall.
Yes, I can revive the fire–but what then? what then?
Wait for the fire, renewed, to dwindle and die?
That, after all, is what it was going to do,                                   
and, sooner or later, that is just what it will do.
Where it is, on the grate, the fire has little choice,
though the fire, given its way, would consume the world.
Confined as it is, it is I
who must bring the world to the fire.
Knute reads two poems, On Being 90 & The Fire, from this book
video credit: Gallivanting Media, Courthouse Studios, Ennistymon, Co. Clare